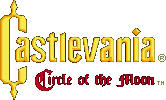 Created and Maintained by:

GrimRipper
Castlevania : Circle of the Moon © 2001

*Updates*
March 16 2004
Shrine was approved today. Have fun exploring it!
March 2 2004
Finished adding the monster elements and I fixed the health values in the monster section.
All the info was provided by Hiryuu. Go and thank him.
Mild overhaul to the Cards page. Different look. Changed some pictures.
Added a new code to the code section.
Added more info about Skeleton Medallist in the secrets section.
Added more info about the Stopwatch Item Crush in the sub weapons section.
Fixed some minor mistakes in the monster section.
Added elements to the bosses section.
February 27 2004
Updated my map.
Added an element column to the monster list.
Tiny other things.
February 26 2004
Updated the monsters page.
Updated the map page. Added colors.
February 25 2004
Changed stalactite to stalagmite for the Apollo/Golem combo.
Enlarged the attribute cards in the DSS section as well as added alternative text.
Took out the downloads page. (weeps)
Highlighted the card drops in the monster section for easier navigation.
Added a link to the secrets section.
Added info about the Double Grips in the goods section.
Added Item Crush Info in the sub weapon section
Added a list of card locations in the cards section
Fixed all of the page titles.
Added a strategy for all of the other modes in the bosses section.
Updated the Secrets section yet again.
February 21 2004
Added a Characters page.
Added HP and EXP values on the Bosses page.
February 19 2004
Upgraded the card system page.
I added pictures and upgraded the format.
Added health values for Fallen Angel, Devil Armor, and White Armor.
February 17 2004
Updated monsters page
Updated goods page
Added a map page.
February 15 2004
Started adding descriptions to the monster page.
Updated the Goods page
Got all the monster sprites up thanks to an incredible
person name Hiryuu, who donated ALL of them.
Updated the Bosses page with sprites thanks to Hiryuu.
February 14 2004
Happy Valentines Day
Added walkthrough part 5 and 6
Also added parts 7, 8, and 9
Added a Codes section
February 13 2004
Updated the Walkthrough page (part 1).
Added Walkthrough parts 2, 3, and 4.
Changed table background from black to image.
Fixed the alignment of the Inline Frame from absolute to relative centered.
February 12 2004
Upgraded a lot of things. Got the Cards links all fixed. Added sub-weapons sprites and some more monster sprites. Deleted the Maps link and added a Goods page.
February 8 2004
Added an Accessory page and an Armor page plus the Monster, Battle Arena, Cards, Bosses, Downloads, Secrets, Save State Hacking, and Walkthrough and Sub-weapons pages.
February 6 2004
Started the shrine. Took out all the existing data left over from the previous owner.